Measuring the Strength of National Social Service Systems: 33 Indicators to Help the United States Government and Others Engaged in Strengthening Social Service Systems for Orphans and Vulnerable Children See What Difference Their Investments Are Making

fs-14-137-rev.pdf
— PDF document, 307 kB (314,613 bytes)
Author(s): MEASURE Evaluation
Year: 2017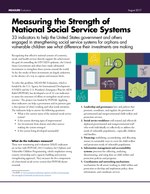 Abstract:
Effective national systems of economic, social, and health services directly support the achievement of the goal of controlling the HIV/AIDS epidemic, so the U.S. Government and others have made substantial investments to strengthen these systems around the world. But, because there has not been a way to capture and measure them, the results of these investments are largely unknown.
To solve this problem, MEASURE Evaluation, which is funded by the U.S. Agency for International Development (USAID) and the U.S. President's Emergency Plan for AIDS Relief (PEPFAR), has developed a set of 33 core indicators to assess the outcomes of efforts to strengthen social service systems. Applying these PEPFAR-funded indicators can help a government and its partners gain a clear picture of what's working and what needs attention.
This fact sheet gives an overview of these core indicators for social service systems for orphans and vulnerable children.