MEASURE Evaluation OVC Portfolio Brief

fs-12-69.pdf
— PDF document, 3,962 kB (4,057,183 bytes)
Author(s):
Year: 2012 (Updated 2015)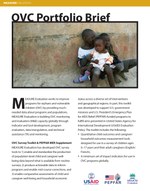 Abstract:
MEASURE Evaluation works to improve programs for orphans and vulnerable children (OVC) by providing much-needed data about programs and populations. MEASURE Evaluation is building OVC monitoring and evaluation (M&E) capacity globally through indicator and tool development, program evaluation, data triangulation, and technical assistance and mentoring both directly and via our online community of practice: Child Status Net (http://childstatus.net/).
This document is not available in print from MEASURE Evaluation.