Encuesta para la Evaluación de Línea de Base del Programa Integrado del Altiplano Occidental: Un estudio de caso en la práctica de evaluación

SR-14-106-ES.pdf
— PDF document, 14184 kB (14525073 bytes)
Author(s): Taylor T
Year: 2014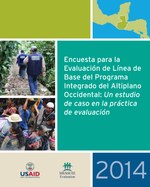 Abstract:
La experiencia de la encuesta de línea de base del Programa WHIP brindó importantes lecciones sobre cómo implementar enfoques para las evaluaciones a gran escala. En primer lugar, se necesita una cantidad enorme de recursos para lograr una evaluación de programa de alta calidad. Las evaluaciones de impacto, en particular, no pueden compararse a otros procesos de monitoreo o evaluación, ya que requieren conocimientos o destrezas especializadas por parte del equipo de expertos en todos los casos. La planificación de una evaluación a gran escala debe empezar tan pronto como se inicie la planificación del programa mismo, y su implementación puede tardar un año o más. Si se necesita información que deben brindar los socios de implementación, como listas de beneficiarios, se deben comunicar estos requerimientos con suficiente tiempo. La magnitud del estudio, de hecho, podría limitar las comunicaciones entre las partes interesadas, los socios y aun los miembros del personal. Los efectos resultantes podrían minimizarse identificando y promoviendo las vías de comunicación más esenciales. En el Altiplano Occidental de Guatemala, y sin duda en otros lugares, el componente más importante para alcanzar el éxito en la implementación es quizás lograr un amplio apoyo de la comunidad. Por último, la Política de Evaluación de USAID y de sus programas insignia como Feed the Future (FTF) están promoviendo inversiones considerables en evaluación. Los esfuerzos coordinados que tienen éxito no sólo proporcionan datos de alta calidad con fines de la toma de decisiones, sino que también refuerzan los compromisos para lograr la transparencia y la colaboración.
This publication is also available in the following language:
English

This document is not available in print from MEASURE Evaluation.