Bangladesh Smiling Sun Franchise Program Endline Survey Report 2011

tr-13-91.pdf
— PDF document, 2336 kB (2392486 bytes)
Author(s): Lance P, Angeles G, Kamal N
Year: 2013
MEASURE Evaluation. (2013). Smiling Sun Franchise Program (BSSFP) Endline Survey Report 2011.  Chapel Hill, North Carolina:  MEASURE Evaluation.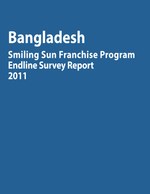 Abstract:
The Bangladesh Smiling Sun Franchise Program (BSSFP), running from 2007 to 2012, was a USAID-funded health service delivery program that aimed to deliver family planning and a broad package of maternal and child health-focused essential services through a network of clinics administered by 23 local NGOs. It was the most recent phase of an evolving series of interventions that began with separate urban and rural components, called, respectively, the Urban Family Health Partnership (UFHP) and Rural Service Delivery Partnership (RSDP), before being consolidated into the successor NGO Service Delivery Program (NSDP).


This document is not available in print from MEASURE Evaluation.