Innovations in Geographic Information Systems Mapping Technology: GIS Working Group Meeting, October 2017

2017 GIS Working Group Report_FINAL_ws-17-41.pdf
— PDF document, 2730 kB (2796260 bytes)
Author(s): Sky Barlow, John Spencer, Becky Wilkes
Year: 2017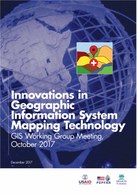 Abstract:
To promote and improve the use of geospatial data by the implementing partners of the United States President's Emergency Plan for AIDS Relief (PEFPAR), MEASURE Evaluation—funded by the United States Agency for International Development (USAID) and PEPFAR—convened a meeting of the Geographic Information Systems (GIS) Working Group in Washington, DC, on October 23, 2017. The group has been meeting at least annually since 2000, giving GIS specialists and users a regular opportunity to share their experiences with spatial data and platforms, and to keep up to date on recent developments in GIS technology and its uses for global public health. Over the years, several springboard discussions from these meetings have resulted in publications and have led to further collaborative work within the project.
This report shares the insights, innovations, and research that engaged the working group at this meeting. Presentations covered a wide array of topics but can be distilled to two overarching ones: "innovations" and "research and discoveries." The Innovations section of this report describes presentations related to new tools, technologies, and other offerings of some of our guest experts. The Research and Discoveries section showcases some of the work that our presenters have done on upcoming tools, techniques, and data analysis.
Meeting Presentations
GIS Working Group meeting welcome
GIS Apps to Support Health Information Systems
Accelerating map making with artificial intelligence and web GIS
NavigateHealth—a 'Yelp'–like app to support community health workers in finding the best service delivery point for their clients, based on GIS and crowd-sourced data
Google Earth Engine: Health Applications of Google's Cloud Platform for Big Earth Data
Open mapping for health and humanitarian action using OpenStreetMap
How the polio eradication effort in Nigeria led to a quest for global geospatial reference data
This document is not available in print from MEASURE Evaluation.