MEASURE Evaluation Tanzania
MEASURE Evaluation Tanzania focuses on improving systems that monitor and evaluate health and social service programs, while enhancing local capacity to sustain and use the systems created.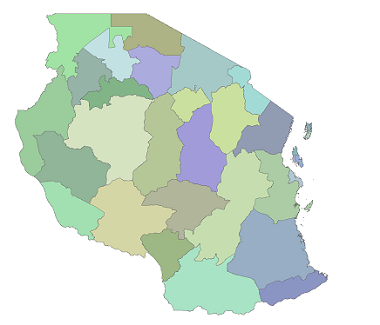 Tanzania is East Africa's most populous country, with an estimated population of 51 million people, 75 percent of whom live in rural areas. Although Tanzania's healthcare system functions in an environment of limited financial and human resources, there has been significant progress towards improving health outcomes, including a decrease in HIV prevalence from 8 percent in 1996 to 5 percent, and a reduction over the last decade in under-five mortality from 147 deaths per 100,000 live births to 81 deaths per 100,000 live births.
The United Republic of Tanzania has 27 administrative regions, 133 districts, and 162 councils. The local governments or councils are the most important administrative and implementation units for public services.[1] The health information system is focused on strengthening these systems.
MEASURE Evaluation Tanzania currently operates a five-year USAID Associate Award to assist the Government of Tanzania to strengthen and harmonize monitoring and evaluation (M&E) systems for health and social service programs, with a focus on most vulnerable children (MVC), HIV, and malaria. Unfortunately, health data is often disease-specific, making it difficult to synthesize and analyze data for integrated analysis. The project's goal is to streamline data collection and triangulate the information into a more coherent package for policy and programming.
MEASURE Evaluation Tanzania focuses on improving systems that monitor and evaluate health and social service programs, while enhancing local capacity to sustain and use the systems created. The project's technical approach rests on two complementary pillars: (1) an enhanced evidence base derived from evaluation, monitoring, and focused research; and (2) widespread use of this evidence for the development of policies and guidelines, for advocacy for community health and social service programs, and for program planning, budgeting, and implementation.
MEASURE Evaluation Tanzania's harmonization efforts work to enhance Tanzania's government capacity to use evidence within and across administrative and functional units, including: (a) between health and social services to strengthen the continuum of care; (b) within line ministries and across government entities; and (c) among service providers, community volunteers, and local authorities. To achieve this, we develop and adapt tools for identifying critical gaps, develop training materials, facilitate training programs, provide mentorship and supervision, and institutionalize these approaches locally in both government and non-governmental structures.
MEASURE Evaluation Tanzania:
Strengthens M&E systems in MVC programming through support to the government's efforts to integrate MVC indicators into the DHIS 2 system and implement the national MVC M&E plan across the country
Improves data use through building the capacity of key national and subnational staff
Enhances data quality by building local capacity to assess quality of data and strengthen M&E systems in existing programs
Expands sources of high-quality data by conducting special studies on HIV and malaria, as well as issuing small research grants to study other topics in health and social services.
Improves M&E capacity among professionals through a local community of practice, support for in-country training, and through partnerships with educational institutions to provide specific M&E training.
Conducts malaria surveillance in Mainland and Zanzibar and implements operational research studies on malaria
Provides support to activities within the Zanzibar Malaria Elimination Program
We at the national level countrywide, and at the subnational level in Dar Es Salaam, Iringa, Njombe, Mwanza, Shinyanga, Mbeya, and Zanzibar. MEASURE Evaluation works with many health stakeholders, including the Ministry of Health and Social Welfare Mainland, Ministry of Health Zanzibar, Departments of Social Work in Mainland and Zanzibar, the National AIDS Control Program, and the Zanzibar AIDS Control Program, among others.
Related Content
MEASURE Evaluation Tanzania Community of Practice
Sustainability Planning for MEASURE Evaluation–Tanzania
Participatory Monitoring & Evaluation in Tanzania's Health and Social Service Programmes
Community-based HIV/AIDS research funded by PEPFAR under MEASURE Evaluation Tanzania
The MEASURE Evaluation–Tanzania Small Grants Program: Building Capacity and Informing HIV/AIDS Programs
MEASURE Evaluation Tanzania Associate Award: Achievements, lessons learned and recommendations
Monitoring Well-Being Outcomes among Kizazi Kipya Project Beneficiaries in Tanzania
DHIS 2 Functions and Data Use for Health Information System Strengthening Training Manual
Information Products to Drive Decision Making: How to Promote the Use of Routine Data Throughout a Health System
Assessing Training Approaches and a Supportive Intervention for Managing Febrile Illness in Tanzania – Tibu Homa Performance Evaluation Report
Factors Affecting Sex-and Age-Disaggregated Data in Health Information Systems – Lessons from the Field
Availability and Use of Sex-Disaggregated Data in Tanzania: An Assessment
Tanzania Global Health Initiative
Home-Based Care (HBC) Needs Assessment among U.S. Government-Supported Areas in Tanzania
Assessment of Tanzania's District-Level HIV Referral Systems: Linking Communities and Facilities
CRVS Strengthening with SAVVY Implementation
Tanzania National Guidelines for Health Data Quality Assessment
Analysis and Use of Home-Based Care Referral Data Guidance for the Tanzanian HBC Program
---
[1] Health Sector Strategic Plan July 2015-June 2020. United Republic of Tanzania Ministry of Health and Social Welfare.