Staff and Quality Data Play Critical Role in Haiti Disaster Response
MEASURE Evaluation staff work to collect quality data, a vital resource for NGOs and governments in their efforts toward providing immediate and long-term disaster relief in Haiti.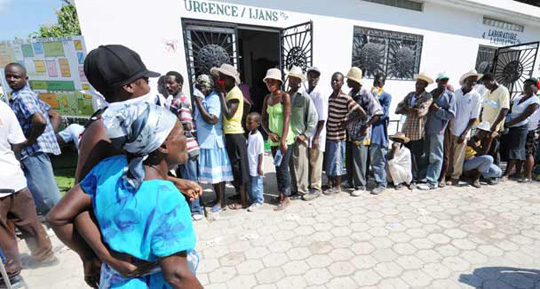 (c) AFP PHOTO:Thony BELIZAIRE
Joseph Fanor had just returned to his apartment in Port au Prince on a Tuesday afternoon last January when the walls started shaking. His wife, son and nephew stopped eating dinner and looked around, bewildered.
"I noticed first that things in the apartment started moving, then I noticed the apartment was moving, and then I realized the whole building was moving," he recalled.
Fanor, who has worked for MEASURE Evaluation since 2006, and his family didn't know what was happening. Neither did their neighbors. "I looked outside and saw that other people were also watching the building move," he said. "We didn't know what was going on, but we knew it was serious."
Looking back now, there's no question about what happened on Tuesday, January 12, 2010, in Haiti. An earthquake – 7.0 magnitude, up to 250,000 people killed, more than 1 million left homeless. As it occurred, and in the immediate aftermath, though, not much was clear except that Port au Prince, Haiti's capital city, was in a crisis.
Gerald Lerebours, who returned to MEASURE Evaluation as resident advisor seven months after the earthquake, remembers touring the city on January 13. The scene – dead bodies and flattened houses – shocked him. He felt the loss profoundly.
"I am from Port au Prince," Lerebours said in a phone interview. "I saw all the landmarks down. The Presidential Palace – down. The National Cathedral – down. Parliament – down. My school where I went as a boy – down."
Back in the U.S.A., MEASURE Evaluation staff members scrambled to get in touch with their colleagues in Haiti. They made phone calls and sent text messages and emails, hoping to hear from someone. But phone lines and the Internet were down for most people in Port au Prince. For a while, nobody knew if Fanor, Lerebours or Moussa Ly, the resident advisor in Haiti at the time, were dead or alive. 
David Boone, the country focal person for the Haiti project, is based in San Francisco. When he heard initial reports of the earthquake, his heart sank.
"If you've been to Port au Prince, one of the things that strikes you is how hilly it is," Boone said. "The houses are built one on top of the other.  I remember thinking to myself before, 'If there is ever an earthquake here, it would be devastating.'"
A few days after the earthquake, when phone service resumed, Lerebours called the MEASURE Evaluation staff in the U.S.A. to report that he and the injection safety team were okay. But Fanor and Ly were still unreachable.
Finally, after about a week, Ly's Blackberry started working and he sent a text message to Washington, D.C., assuring everyone that he and Fanor were alive and safe.
"I was elated," Boone said.
"When I finally checked my email," Fanor recalled, "I had hundreds of emails from David and others who didn't know what our status was." Unlike many aid organizations working in Haiti, MEASURE Evaluation did not lose any staff members to the earthquake. 
Responding to an Urgent Need
In the days following the earthquake, MEASURE Evaluation's role in Haiti was uncertain. Ly and his family, who are Senegalese, were evacuated to the Dominican Republic, and Fanor took his family to his hometown of Plaisance, in the north of Haiti.
MEASURE Evaluation has been in Haiti since 2001, and it was in transition before the earthquake. The project's primary tasks in Haiti were to provide support for the Health Information System (HIS) and to build capacity for data management. MEASURE Evaluation was on track to meet USAID's priority to enable local organizations, thereby building capacity in Haiti.
"Many of the things we had been doing, such as support for data quality and data use were being transferred to local NGOs," Boone explained.  "That is a very desirable outcome. So we were scaling down and thinking we would be out by next year."
Like most people in Port au Prince in the days after the earthquake, MEASURE Evaluation staff members spent most of their time helping neighbors. In addition to the staggering death toll, the United Nations estimates that the quake demolished 105,000 homes and damaged 208,000 more, leaving more than 1 million people homeless.
It soon became clear that MEASURE Evaluation would be a vital resource for NGOs and governments in their efforts toward providing immediate and long-term disaster relief. In order to determine Haiti's needs, organizations needed reliable data on Haiti's population. MEASURE Evaluation's role was especially critical during that time because data from Haiti's Ministry of Health was not available after the earthquake. 
"The first thing we did was move the MEASURE Evaluation office for security," Fanor explained. "The first office was in a multistory building, and we were worried about stability."
Once they were settled, work started pouring in. Just five days after the earthquake, the Ministry of Health contacted Lerebours to start working on its response. Other organizations began contacting MEASURE Evaluation as well.
"We immediately started getting communication from organizations, including the U.S. Centers for Disease Control and prevention (CDC)," Fanor said. "We were able to give them an epidemiological profile, tendencies, etc. The CDC needed information to compare the current situation to the situation pre-earthquake."
Within a few months, MEASURE Evaluation, in conjunction with the U.S. Department of Health and Human Services, had come up with a master list that included the status of health facilities in Port au Prince. They sent the list to the MEASURE Evaluation office in Washington, D.C., which was helping the government assess Haiti's situation and plans to reconstruct health facilities. 
"There were so many people that wanted to help and so many organizations involved, and they needed information to help," Fanor said. "Our master list was used for verification of facilities and coding so that people could get up-to-date information about where clinics were, GPS readings and what the staffing situations were in different health facilities."
MEASURE Evaluation staff put that information on Google Maps so that people could help in the relief effort. They also worked with the Ministry of Health on its surveillance system. The project has continued to get so many requests from numerous sources that it was asked in May 2010 to submit a 6-month emergency plan to USAID.
Looking Ahead in Haiti
Most people in Port au Prince and surrounding areas live in temporary shelters in one of the 1,322 camps, consisting of 564,000 tarpaulins (which can provide shelter for 1.7 million people) and approximately 10,000 tents, according to a report in the New York Times. Although his apartment did not tumble during the quake, Fanor spent six months living in a tent at his older sister's residence. His landlord repaired the damages to his apartment, allowing Fanor to move back in recently, just as Haiti's rainy season set in. He worries about his and fellow Haitians' precarious living situations, lamenting the lack of decent housing, electricity and transportation along with "the exorbitant cost of living Haiti, especially since the earthquake."
"[One of my] personal challenges," Fanor said, "is the uncertainty regarding reconstruction of Haiti to ensure that all Haitians can live with dignity."
Although Haiti's future remains uncertain as it embarks upon what many experts predict to be a decades-long recovery, chances are pretty good that MEASURE Evaluation will continue to play a crucial role. 
Lerebours, who left MEASURE Evaluation in 2004 when his contract ended, returned to the project in August to take Moussa Ly's place as resident advisor. 
"I think we can continue because, in this situation, people need good data to make good decisions for the well-being of Haiti," Lerebours said. "Also, it's important to use the data. If we don't use the data, we can't have good quality data. So that is what we see MEASURE Evaluation doing for the next few years."
Boone is also hopeful about MEASURE Evaluation's function in Haiti's future.
"We are very pleased with how we will be able to contribute post-disaster," he said. "I think our upcoming work is reflective of the work we've done there in the past. I'm glad we have guys like Fanor and Gerald [Lerebours] there."
The earthquake increased Haiti's profile in the eyes of governments and ordinary people around the world, a fact that Lerebours finds encouraging.
"The earthquake was a very sad event," he said. "But I think if we take it for an opportunity for change, we can eventually have a new health system for Haiti."
Fanor remains committed to MEASURE Evaluation's work in Haiti, but he has also found hope in the collective will of ordinary Haitians to make their lives better.
"In spite of all the difficulties," he said, "life must go on. This is how each and every person is trying his or her best to change their living conditions because the government is not going to do it for us. Life in Port au Prince now is a race toward better living conditions and well-being."