Two Virtual Leadership Development Programs Successfully Completed
To date, 22 teams in 15 counties, totaling 180 participants have successfully completed the Virtual Leadership Development Program to build leadership capacity of M&E managers in order to strengthen M&E systems and improve performance.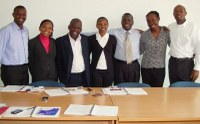 AMPATH Team, Kenya
In December 2009, MEASURE Evaluation completed the second of two offerings of the Virtual Leadership Development Program (VLDP) for M&E teams selected from government and non-governmental organizations in Asia, Africa, and South America. To date, 180 participants, 22 teams in 15 countries—Botswana, Burma, Ethiopia, Ghana, Guyana, India, Kenya, Malawi, Namibia, Nigeria, Swaziland, Tanzania, Uganda, Zambia, and Zimbabwe—have successfully completed the VLDP for M&E teams.
The VLDP, developed in 2002 by Management Sciences for Health, is a 13-week Internet-based leadership development program that combines face-to-face team work with distance learning methodologies. VLDP participants complete seven learning modules, applying key leadership practices and competencies while working as a team to identify a real-life organizational challenge within their own agency or organization. They then develop an action plan to address this challenge, with support and feedback from VLDP facilitators.
The teams complete high-quality action plans, aimed at building the leadership capacity of M&E managers in order to strengthen M&E systems and improve performance. Participants learn and apply critical management skills (planning, organizing, implementing, and monitoring and evaluating) and key leadership skills (scanning, focusing, aligning and mobilizing, and inspiring). The expected outcomes of the VLDP are:
a completed and implemented action plan (as measured six months after the end of the program)
an improved workgroup climate (using pre- and post-program assessments to evaluate results)
better teamwork
Susan Post, Leadership and Organization Development Specialist, and Scott McKeown, Organization Development Advisor, served as facilitators of both program offerings and coaches to the teams throughout the VLDP process.
Sample Results
Follow-up with teams from the first VLDP offering began in December 2009, six months after that program ended. Although a full evaluation of results has not yet been completed, the initial report from the Health Sector Development Unit team of the Ministry of Health (MOH), a cross-ministerial team responsible for the administration of the Guyana HIV/AIDS Prevention and Control Project, is that its results go well beyond their expectations.
The Guyana team's challenge was to convince the administrative chiefs of the various represented ministries to develop policy and procedures for mainstreaming Sexual and Reproductive Health (SRH) into their respective HIV/AIDS programs. Their desired measurable result was: "By December 2009, six of the eleven sector ministries and/or agencies involved in Health Sector Development Unit HIV/AIDS prevention and control program, develop policy and procedures to demonstrate commitment to making SRH mainstreamed in their work program."
By using the leadership practice of aligning and mobilizing, the team presented their proposal to integrate this SRH project into the HIV/AIDS programs to their supervisors and then to the upper levels of their ministries. The result was that they gained strong support for their proposal from very influential people at the upper levels of the government. This, in turn, led to the full adoption of their proposal and the expansion of the SRH project into a full cross-ministerial program that they expect to be fully funded under the government's 2011 budget.
In addition, this team reported that team members now set clear indicators for what they would like to achieve in the next six months and are using the SMART (Specific, Measurable, Appropriate, Realistic and Time-bound) criteria for goal setting and clear timelines to achieve results. The VLDP team members shared their learning with others within their organizations and have found that there is an increase in information sharing among the departments represented on the team and in dialogue between levels within the system. They reported that they now think more creatively at all levels and are more supportive of each other.
What participants say:
"I am learning something very important from the VLDP personal reflection on change," said a participant at the end of the first program. "Change management needs a lot of time, as it involves a lot of communication and explanation...but if everyone is involved in the (participatory) reflection process, the unknown will become known, and resistance to change will be minimized, if not removed."
A participant in the second offering remarked, "The high points for me in the VLDP were the team meetings. I learned a lot about how other departments operate through the team members. … In order to address our challenge, the team has decided to have a meeting to enlighten the rest of the staff how important data collection is to our M&E department. The team sessions came up with ideas on how we could make our reporting better."