GEMNet-Health
The Global Evaluation and Monitoring Network for Health (GEMNet-Health)
Participants in GEMNet-Health 2015 Annual General Meeting in New Delhi, India. Photo courtesy of PHFI.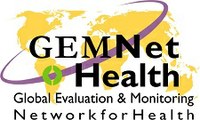 The purpose of the Global Evaluation and Monitoring Network for Health (GEMNet-Health) is to foster organizational growth, collaboration, and peer-to-peer support for monitoring and evaluation of health programs globally through ongoing and future institutional linkages among members, beginning with a core of MEASURE Evaluation's current and former training partners. MEASURE Evaluation serves as the Secretariat for GEMNet-Health.
In addition to MEASURE Evaluation, the founding member institutions of GEMNet-Health are:
Resources
NOTE: If you are a member of one of the GEMNet-Health member institutions listed above and would like to request access to the GEMNet-Health SharePoint site, please go the login request form. If your request has been approved and you are experiencing difficulties logging in, please review our site login instructions.