Bulletin 7: Strengthening Monitoring & Evaluation of Maternal Health Programs.

bu-04-07.pdf
— PDF document, 1,239 kB (1,269,633 bytes)
Author(s):
Year: 2004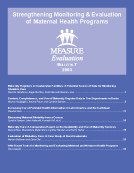 Abstract:
Each year, more than 500,000 women die as a result of pregnancy and childbirth, and more than 50 million women suffer from poor reproductive health. This issue of the MEASURE Evaluation Bulletin summarizes the results of several activities related to the monitoring and evaluation of maternal health programs. Two articles describe complementary studies undertaken in Guatemala and Benin that assess the status, current use, and potential use of facility-based maternity registers for monitoring maternal health programs at different system levels. A third article discribes efforts to increase use of the Latin American Center for Perinatology database by developing Web-based data analysis tools. Finally, MEASURE Evaluation compiled a Web-based compendium of existing tools for monitoring and evaluation of maternal and newborn health programs.