A Bi-national Partnership against HIV: USAID Legacy in Mexico

FS-14-110.pdf
— PDF document, 3,253 kB (3,331,567 bytes)
Author(s):
Year: 2014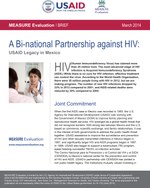 Abstract:
When the first AIDS case in Mexico was recorded in 1983, the U.S. Agency for International Development (USAID) was working with the Government of Mexico (GOM) to improve family planning and reproductive health services. HIV emerged as a global health threat that did not recognize borders. With strong ties between Mexico and the U.S. based on commerce, scientific exchange, and family relationships, it was in the interest of both governments to address the public health threat together. USAID assistance to improve the surveillance and prevention of HIV and other sexually transmitted infections in Mexico began in 1987, and significantly larger HIV and AIDS programs began in 1997. In 1999, USAID also began to support a tuberculosis (TB) program, spear-heading successful TB/HIV co-infection activities.
This publication is also available in the following language:
Spanish

This document is not available in print from MEASURE Evaluation.