Strengthening Civil Registration and Vital Statistics Monitoring and Evaluation Systems

fs-14-112-en.pdf
— PDF document, 283 kB (290105 bytes)
Author(s):
Year: 2014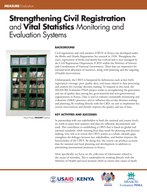 Abstract:
Civil registration and vital statistics (CRVS) in Kenya were developed under the Births and Deaths Registration Act enacted in 1928. Throughout the years, registration of births and deaths has evolved and is now managed by the Civil Registration Department (CRD) within the Ministry of Interior and Coordination of National Government. These data are imperative for national-level allocation of resources, along with planning and the targeting of health interventions.
This fact sheet describes how MEASURE Evaluation PIMA works in partnership with stakeholders, at both the national and county levels, to assess how statistics and data are collected, documented, and used.This contributes to establishing a CRVS system that is based on global and national standards, while meeting local data needs for planning and decision making.
This document is not available in print from MEASURE Evaluation.