Strengthening Organizational Development Systems to Support M&E Capacity Development

fs-14-115-en.pdf
— PDF document, 249 kB (255,503 bytes)
Author(s):
Year: 2014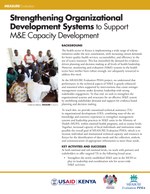 Abstract:
The health sector in Kenya is implementing a wide range of reform initiatives under the new constitution, with increasing citizen demands for better quality health services, accountability, and efficiency in the use of scarce resources. This has intensified the demand for evidence-driven planning and decision making at all levels of health leadership. However, monitoring and evaluation (M&E) systems in the health sector have neither been robust enough, nor adequately resourced, to address this need.
This fact sheet summarizes how MEASURE Evaluation PIMA provides customized technical assistance in organizational development, combining state-of-the art knowledge and extensive experience to strengthen management systems and leadership practices in M&E units in the Ministry of Health, within national health programs, and at county levels.
This document is not available in print from MEASURE Evaluation.