MEASURE Evaluation Capability Statement: Health Systems Strengthening

fs-14-134c.pdf
— PDF document, 667 kB (683,227 bytes)
Author(s):
Year: 2014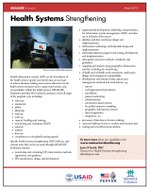 Abstract:
Health information systems (HIS) are the foundation of the health system; quality and timely data are necessary to inform decision making and resource allocation for all health system elements and to support governance and accountability within the health system. MEASURE Evaluation provides HIS technical assistance across all stages of the program cycle including:
advocacy,

assessment,

policy,

planning,

start-up,

scale-up,

capacity building and training,

monitoring and evaluation (M&E),

research,

analysis,

data use, and

contribution to the global learning agenda.
This document is not available in print from MEASURE Evaluation.