Family Folders: Low-Resource Health Data with a Big Impact

FS-15-138.pdf
— PDF document, 807 kB (826,774 bytes)
Author(s):
Year: 2015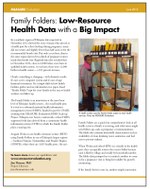 Abstract:
In a southern region of Ethiopia, data reported in November 2012 showed for every woman who arrived at a health post for a first checkup during pregnancy, many did not return and slightly fewer than half came in for the recommended fourth visit. But only a year later, data in the same region showed two-thirds of pregnant women made that fourth visit. Regional data also revealed that in November 2012, close to 6,000 babies were born in qualified health centers. A year later, there were 12,000 births in health centers – a 103 percent increase.
Clearly, something is changing – with dramatic results. It's not a new computer system and it's not a huge financial investment. It's a simple shift in how health facilities gather and use information in a paper-based "Family Folder" kept for every family in the area so health workers can follow up. The Family Folder is an innovation at the most basic level of Ethiopia's health system – the rural health post. It is tied to a reformed national health information management system (HMIS), funded in part by the U.S. Agency for International Development, working with MEASURE Evaluation's HMIS Scale-up Project.
This document is not available in print from MEASURE Evaluation.