PLACE Method

FS-15-143.pdf
— PDF document, 180 kB (184467 bytes)
Author(s):
Year: 2015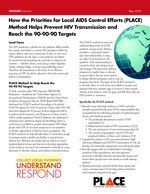 Abstract:
The Priorities for Local AIDS Control Efforts (PLACE) method increases the understanding of the local HIV epidemic among service delivery providers, community leaders, and other stakeholders so that a response is tailored to the epidemic. The heart of the strategy is to identify where to reach those most likely to acquire and transmit infection, measure gaps in services to these people, and develop action plans to address the gaps.
This factsheet describes the PLACE method, developed by MEASURE Evaluation and recommended by the Joint United Nations Programme on HIV/AIDS and the Global Fund to Fight AIDS, Tuberculosis, and Malaria. The method helps users to:
consult with local stakeholders in priority areas and use approved protocols to systematically identify and map venues and events where people meet new sexual or needle-sharing partners;
assess prevention outreach within these venues and create coverage maps showing where there are gaps in prevention programs;
obtain key program indicators from surveys of venue patrons and workers, including HIV prevention and treatment cascade indicators and estimates of the size of key populations (sex workers, men who have sex with men, transgender people, and people who inject drugs); and
estimate risk behaviors and HIV and STI prevalence of persons in risk venues using new testing technologies feasible in outreach settings.
 Access the PLACE manual and other resources.
This publication is also available in the following language:
French

This document is not available in print from MEASURE Evaluation.