Privacy and Security for mHealth Projects in South Africa

fs-15-51.pdf
— PDF document, 310 kB (317,595 bytes)
Author(s): MEASURE Evaluation SIFSA
Year: 2015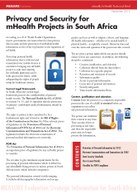 Abstract:
According to a 2011 World Health Organization report, governments cite issues related to data privacy, data security, and the protection of individual health information as two of the top barriers to the expansion of mHealth.
Protecting personal health information that is collected and transmitted over mobile devices is essential to bringing any mHealth project to scale and ensuring the mHealth platforms can be built upon in the future, while safeguarding the rights of people using the healthcare system.
This document is not available in print from MEASURE Evaluation.