Health Information System Performance Monitoring Tool – A Source of Evidence to Help National Authorities Prioritize HIS-Strengthening Interventions

fs-17-213-en.pdf
— PDF document, 147 kB (151,133 bytes)
Author(s): MEASURE Evaluation
Year: 2017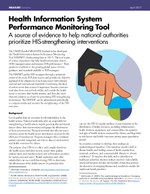 Abstract:
The Health Information System Performance Monitoring Tool (HISPMT) provides evidence to help national authorities prioritize interventions to strengthen health information systems (HIS).
The HISPMT guides HIS managers through a systematic review of the main HIS data sources and provides an objective appraisal of the alignment of each data source with relevant national and international standards. Conducting this kind of review across data sources is important, because countries need data from sources both within and outside the health sector to monitor their health systems, and they also need objective evidence as a basis for prioritizing HIS strengthening investments. The HISPMT can be administered periodically to compare results and monitor the strengthening of the HIS over time.
The HISPMT automatically evaluates the results from the completed modules and the indicator mapping. The summary score for each data source and the relative demand on each data source are plotted on a scatter plot. Presenting the results on the scatter plot allows decision makers and other interested parties to see at a glance how well data sources are performing and the demand for data from each.