Bridging the gaps in Mali's disease surveillance system

fs-17-216.pdf
— PDF document, 334 kB (342020 bytes)
Author(s): MEASURE Evaluation
Year: 2017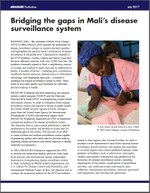 Abstract:
The outbreak of Ebola Virus Disease (EVD) in West Africa in 2014 exposed the weaknesses of disease surveillance systems in resource-limited countries and highlighted the need for better coordination of disease surveillance at the global level. Unprepared to respond to the EVD epidemic, Guinea, Liberia and Sierra Leone were the most affected countries, with over 11,000 lives lost. The epidemic eventually spread to Mali, a neighboring country to Guinea, and resulted in eight cases and an additional six deaths. A number of factors—including poor coordination, insufficient human resources, limited access to information technology, and inadequate data tools—continue to challenge the disease surveillance system in Mali. These result in poor data quality and timeliness for informed decision making in health.
This resource focuses on how MEASURE Evaluation has been supporting the national malaria control program (NMCP) and the Direction National de la Santé (DNS) in strengthening routine health information systems. 
This document is not available in print from MEASURE Evaluation.