Evaluation of the Partnership for HIV-Free Survival Four-Country Overview: Kenya, Lesotho, Tanzania, and Uganda

Four Country Evaluation of the Partnership for HIV Free Survival_FS-18-254.pdf
— PDF document, 150 kB (153,753 bytes)
Author(s): MEASURE Evaluation
Year: 2018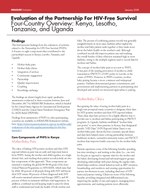 Abstract:
This brief presents findings from the evaluation of activities related to the Partnership for HIV-Free Survival (PHFS). It focuses on eight components that contributed to the partnership's success in Kenya, Lesotho, Tanzania, and Uganda:

• Mother-baby pairs
• Mother-baby clinics
• Integration of services
• Community engagement
• Partnership
• Quality improvement
• Coaching
• Knowledge exchange

The findings are drawn largely from rapid, qualitative assessments conducted in these countries between June and December 2017 by MEASURE Evaluation, which is funded by the United States Agency for International Development and the United States President's Emergency Plan for AIDS Relief.
Findings from assessments of PHFS in other participating countries are available here.