Alternative Care for Children Newsletter (April 2018)

fs-18-270.pdf
— PDF document, 1,462 kB (1,497,532 bytes)
Author(s): MEASURE Evaluation
Year: 2018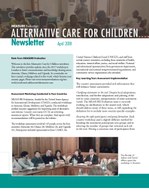 Abstract:
The April 2018 edition of the Alternative Care for Children newsletter provides updates since the 2017 workshop in London to foster communication and knowledge sharing across Armenia, Ghana, Moldova, and Uganda.
MEASURE Evaluation conducted workshop assessments in these four countries, yielding concrete suggestions for improving areas of alternative care systems meant to provide family-based care for children. The workshop assessments provided information to enhance future assessments, aid in developing action plans for each country, and help guide MEASURE Evaluation work with country core teams and other stakeholders on activities related to monitoring and evaluation. These updates are discussed in depth in the newsletter.
Learn more about MEASURE Evaluation's alternative care work at www.measureevaluation.org/our-work/youth-and-adolescents/alternative-care.