OVC Indicator Matrix: Measuring the Pathway to Better Outcomes for Children Affected by HIV
gr-18-015.jpg
— JPEG image, 1,551 kB (1,588,613 bytes)
Author(s): M Cannon, C Fu, M Mendenhall
Year: 2018
Cannon, M.; Fu, C.; Mendenhall, M. (2018). Measuring the pathway to better outcomes for children. Chapel Hill, NC, USA: MEASURE Evaluation, University of North Carolina.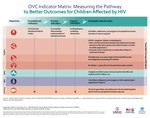 Abstract:
The United States President's Emergency Plan for AIDS Relief (PEPFAR) engaged the United States Agency for International Development (USAID)- and PEPFAR-funded MEASURE Evaluation project to develop and support the rollout of an overarching framework that outlines the pathway toward better outcomes for children affected by HIV. The orphans and vulnerable children (OVC) indicator matrix, designed by MEASURE Evaluation, complements and incorporates a series of benchmarks for assessing achievement of household case plans and determining the readiness of OVC households to exit from OVC programs through graduation. The OVC indicator matrix serves several purposes:
Graphically illustrates the relationship among PEPFAR reporting requirements (e.g., SIMS, MER 2.0, Graduation Benchmarks) and where they "fit" in the pathway
Demonstrates OVC programming contributions to the 95-95-95 cascade and how to help OVC programs and USAID missions tell their OVC stories more compellingly
Provides supplementary process and output indicators that can be monitored to ensure that implementation occurs as intended and beneficiaries are getting sufficient exposure to program interventions. These indicators will provide actionable data so that course corrections can be made in a timely manner.
The OVC indicator matrix is a resource for countries wishing to develop custom indicators to support program monitoring across an OVC country portfolio.