La DCS de Kaloum, Championne en DUD, contribute à l'amélioration de la couverture vaccinale: Le taux d'abandon entre les antigènes BCG/VAR a été réduit

gr-18-022.pdf
— PDF document, 7481 kB (7660912 bytes)
Author(s): MEASURE Evaluation
Year: 2018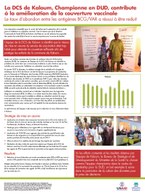 Abstract:
Une intervention essentielle pour la survie de l'enfant est la prévention de la maladie grâce à l'adhésion au calendrier vaccinal. C'est la mission que la Direction Communale de la Santé (DCS) de Kaloum s'est fixée en vue de renforcer les capacités des centres de santé (CS) à fournir ce service important pour la survie de l'enfant. L'équipe de la DCS de Kaloum a identifié que le niveau de mise en œuvre du service de vaccination était trop faible pour atteindre la couverture suffisante afin de protéger les enfants de la commune de Kaloum.
An essential intervention for child survival is disease prevention related to adherence to the vaccination calendar. The Communal Health Authority (DCS) in Kaloum, Guinea, has set itself the goal of strengthening health centers to provide this important service for child survival. The Kaloum DCS team identified that the implementation level of the immunization service was too low to achieve sufficient coverage to protect Kaloum's children.
This document is not available in print from MEASURE Evaluation.