Engagement de la communauté dans la revue et l'amélioration des services de santé en utilisant les données du système national d'information sanitaire (SNIS)

GR-18-024.pdf
— PDF document, 7,778 kB (7,965,152 bytes)
Author(s): MEASURE Evaluation
Year: 2018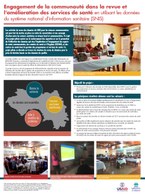 Abstract:
Les activités de revue des données du SNIS pour les niveaux communautaires ont pour but de mettre en place un cadre de concertation et une synergie d'action entre les acteurs sanitaires au niveau local et communautaire. Il s'agit d'un projet pilote centré sur le renforcement des capacités et sur la promotion de l'utilisation des données qui vise l'implication et l'engagement des agents de santé communautaire, des comités de santé et d'hygiène (COSAH), et des centres de santé dans la gestion des programmes et services de santé. Ce projet pilote se déroule au travers des réunions de revue de données pour la prise de décision basée sur des données de qualité.
National health information system data review activities at the community level aim to put in place a framework for consultation and coordinated action between health actors at the local and community level in Guinea. This pilot project focuses on capacity building and promoting data use and aims for the implication and the commitment of community health workers, health and hygiene committees (COSAH), and health centers in the management of health programs and services. This pilot project takes place through data review meetings for data-driven decision-making.
This document is not available in print from MEASURE Evaluation.