Child Status Index - Manual

MS-08-31a.pdf
— PDF document, 1,930 kB (1,977,080 bytes)
Author(s): O'Donnell K, Nyangara F, Murphy R, Cannon M, Nyberg B
Year: 2008, revised 2014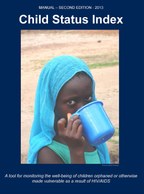 Abstract:
The Child Status Index (CSI) provides a framework for identifying the needs of children, creating individualized goal-directed service plans for use in monitoring the well-being of children and households, and program-level monitoring and planning at the local level. As of 2013, the CSI has been used in 17 countries in sub-Saharan Africa, Asia, and Latin America. It has been translated for use in a variety of geographical, linguistic, and cultural contexts.
MEASURE Evaluation has conducted two studies of CSI use to understand how the tool is implemented and its utility as a job aid for decision making. These studies have provided useful information that has helped enhance the tool's implementation processes, support materials, and its effectiveness. While the CSI remains essentially the same, this second edition published in 2013 provides further guidance in key areas, such as training, best practices for using the CSI, and developing plans to respond when CSI scores indicate a need for a child. Insights gleaned from CSI users in the field – both at the program level and care worker level – are reflected in this second edition. 
This document is not available in print from MEASURE Evaluation.