7 Steps to Use Routine Information to Improve HIV/AIDS Programs

ms-09-38.pdf
— PDF document, 2,089 kB (2,139,845 bytes)
Author(s): Nicole R. Judice
Year: 2009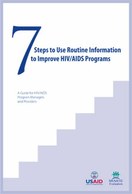 Abstract:
This document presents concrete steps and illustrative examples that can be used to facilitate the use of information as a part of the decision-making processes guiding program design, management, and service provision in the health sector. Specifically, seven steps to data demand and information use (DDIU or DDU) outlined in this document will help address barriers to using routinely-collected data by providing guidance in (1) linking questions of interest to program managers and providers to existing data; (2) analyzing, graphing, and interpreting data; and (3) continuing to monitor key indicators to information improvements.
This publication is also available in the following language:
Spanish

This document is not available in print from MEASURE Evaluation.