Child Status Index Training Manual

MS-14-86.pdf
— PDF document, 1,430 kB (1,464,692 bytes)
Author(s): Cannon M
Year: 2014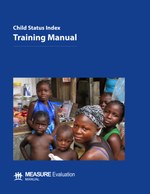 Abstract:
This manual provides guidance for community care workers and other wardens of orphans and other vulnerable children who intend to use the Child Status Index tool. It provides:
an overview of the Child Status Index, its purpose, development, and application;

an overview of the recommended approach for training care workers in the use of this tool;
Instructions for workshop facilitators on how to offer the most effective and engaging training workshops; and
supplemental materials, such as class handouts, frequently asked questions, and a workshop evaluation form.
This document is not available in print from MEASURE Evaluation.