Performance of Routine Information System Management (PRISM) User's Kit: Using SurveyCTO to Collect and Enter PRISM Assessment Data

ms-18-143.pdf
— PDF document, 1203 kB (1232017 bytes)
Author(s): MEASURE Evaluation
Year: 2018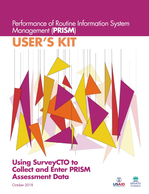 Abstract:
MEASURE Evaluation developed the Performance of Routine Information System Management (PRISM) Framework and suite of tools in 2011 for global use in assessing the reliability and timeliness of a routine health information systems (RHIS), in making evidence-based decisions, and in identifying gaps in an RHIS so they can be addressed and the system can be improved. The framework acknowledges the broader context in which RHIS operate. It also emphasizes the strengthening of RHIS performance through a system-based approach that sustains improvements in data quality and use. PRISM broadens the analysis of RHIS performance to cover three categories of determinants that affect performance:
Behavioral determinants: The knowledge, skills, attitudes, values, and motivation of the people who collect, analyze, and use health data
Technical determinants: The RHIS design, data collection forms, processes, systems, and methods
Organizational determinants: Information culture, structure, resources, roles, and responsibilities of key contributors at each level of the health system
The data entry function for PRISM has been developed in Version 2.41 of SurveyCTO (2018). SurveyCTO is a software platform based on Open Data Kit (ODK) with enhanced functionality for designing forms, collecting data, monitoring data quality, analyzing data, and more. Its security features include transport encryption, device-side and server-side data redundancy, support for easy survey data encryption with a user-defined public/private key pair, and the option for unencrypted data to be restricted to cold room computers (computers totally disconnected from the Internet and all other networks).