Protecting the Land and Inheritance Rights of HIV-Affected Women in Kenya and Uganda: A Compendium of Current Programmatic and Monitoring and Evaluation Approaches

sr-13-80.pdf
— PDF document, 4,333 kB (4,437,897 bytes)
Author(s):
Year: 2013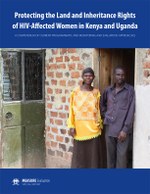 Abstract:
Many in the field of the public health and international development hypothesize that strengthening women's property and inheritance rights (WPIR) may reduce susceptibility to HIV and enable households to better mitigate the economic, physical, and emotional consequences of HIV, particularly in high prevalence countries. A growing body of qualitative and programmatic evidence suggests that programs addressing both WPIR and HIV are more effective at helping women and families alleviate the consequences of HIV compared with programs that address WPIR or HIV alone. However, there is a lack of quantitative evidence to support this assumption. 
To better understand the effectiveness of combination programming at this intersection, more investment is needed in data collection and monitoring to document and evaluate the impact of programs that address both WPIR and HIV. A critical first step is having a clear understanding of current programmatic and monitoring and evaluation (M&E) efforts. This compendium aims to fill this gap by reviewing programs working at the intersection of HIV and WPIR in Kenya and Uganda, countries that have been heavily affected by the HIV epidemic and subsequently are experiencing a high occurrence of property grabbing and disinheritance from widows and orphans. 
The compendium includes descriptions and analysis of the 11 identified organizations and two in-depth case studies. Though not meant to be exhaustive, the compendium represents the depth and breadth of current programming in Kenya and Uganda that includes both WPIR and HIV. We summarize current programmatic and M&E approaches, discuss strengths and challenges of each, and provide recommendations for next steps.