Using Geospatial Analysis to Improve Resource Allocation for HIV Programs in Iringa Region, Tanzania

SR-14-107.pdf
— PDF document, 937 kB (960,504 bytes)
Author(s): Cunningham M, Mapala Y, Patrick J
Year: 2014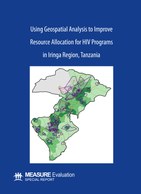 Abstract:
Over a two-year period, MEASURE Evaluation worked with local authorities in the Iringa and Njombe regions of Tanzania to illustrate the potential of maps and geographic information systems (GIS) for supporting effective programming of resources and to enhance demand for and use of data for decision making in the health sector. The work started with activities designed to gather data on HIV transmission dynamics and service coverage, and continued with activities aiming to increase the capacity of district council health management teams to use this and other data to improve resource allocation for HIV programs.
This case study describes the capacity building process, summarizing the data used and providing illustrative examples of what worked. We conclude with lessons learned for other organizations interested in using GIS and improving data demand and use in their local HIV response, or in other health interventions.
This document is not available in print from MEASURE Evaluation.