Evaluation of the USAID Support for HIV Prevention in Mali from 2000 to 2010

SR-14-88.pdf
— PDF document, 953 kB (976,345 bytes)
Author(s):
Year: 2014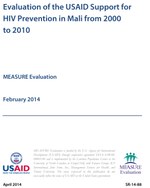 Abstract:
The U.S. Agency for International Development (USAID) in Mali has been supporting the Malian government since the 1990s in its efforts to prevent HIV transmission through a variety of programs that include research and targeted interventions. This report presents the findings from an evaluation of USAID's HIV/AIDS strategies and programs around HIV prevention in Mali. The purpose was to conduct a performance evaluation of HIV prevention strategies and programs sponsored by USAID from 2000 to 2010 in Mali and to document changes in risk behaviors and HIV prevalence over this same period. The results of this evaluation will help inform USAID/Mali's HIV/AIDS program design for 2013–2018.
This publication is also available in the following language:
French

This document is not available in print from MEASURE Evaluation.