La planification familiale en Haïti: Les accomplissements des 50 dernières années

SR-15-118H-FR.pdf
— PDF document, 504 kB (516,279 bytes)
Author(s): Ward VM, Santiso-Gálvez R, Bertrand JT
Year: 2015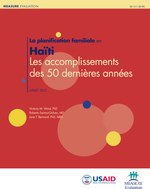 Abstract:
Cette publication est l'une des huit études de cas développées dans le cadre d'une analyse plus large intitulée Family Planning in Latin America and the Caribbean: The Achievements of 50 Years (La planification familiale en Amérique Latine et dans les Caraïbes: Les accomplissements des 50 dernières années). Comme son titre l'indique, ce rapport documente et analyse le travail accompli dans toute la région depuis les premiers financements de l'USAID au début des années 1960.
Autres études de cas dans cette série portent sur des accomplissements de la famille planification réalisés en Colombia, République Dominicaine, El Salvador, Guatemala, le Mexique, le Nicaragua et le Paraguay.
This publication is also available in the following language:
English

This document is not available in print from MEASURE Evaluation.