Working for Stronger Health Information Systems

sr-17-138-en.pdf
— PDF document, 263 kB (269837 bytes)
Author(s): MEASURE Evaluation
Year: 2017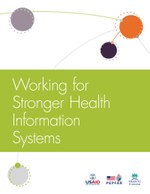 Abstract:
USAID created MEASURE Evaluation to strengthen health information systems (HIS) to harness the power of high-quality data for decision making for better health outcomes around the world. To that end, we create tools and approaches for rigorous evaluations, develop the expertise of institutions and individuals, share information, spark collaboration, and expand the evidence base so countries can make better decisions today and develop the capacity to sustain good health outcomes over time.
This work involved four result areas:
Result 1. Strengthen the collection, analysis, and use of routine health data
Result 2. Improve country-level capacity to manage HIS resources and staff
Result 3. Improve and apply methods, tools, and approaches
Result 4. Increase capacity for rigorous evaluation
This document is not available in print from MEASURE Evaluation.