Five Ways We Help to Change the World

sr-17-139-en.pdf
— PDF document, 4,527 kB (4,636,643 bytes)
Author(s): MEASURE Evaluation
Year: 2017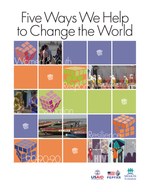 Abstract:
Each day, the United States Agency for International Development (USAID) meets the world's challenges head-on. The environment, poverty, conflict, and health top the list. To improve global health and health security, USAID calls on MEASURE Evaluation with a mission to harness the unprecedented global capacity to generate digital data so it can be used to improve the health of people in developing countries.
We work across the globe helping countries gather high-quality data and employ them to improve health outcomes. We build local capacity to conduct evaluations that contribute to establishing and sustaining high-performing health information systems (HIS).
This overview of Phase IV, Project Year 2 (October 2015 to September 2016) takes a close look at the impact of the project's efforts to strengthen HIS and public health programming. We work on many fronts in scores of activities. This overview examines what we do through the lens of five key themes that resonate globally, to illustrate how we:
Help to build strong, resilient HIS
Evaluate HIS and program impact
Respond to special initiatives or emerging needs for health information
Support information to combat HIV, especially in support of USAID's "test, treat, and retain" strategy
Focus special attention on women and youth
This document is not available in print from MEASURE Evaluation.