Nigeria (Bauchi, Enugu, Oyo) Family Planning and Reproductive Health Survey 2002.

tr-03-16a.pdf
— PDF document, 3,694 kB (3,783,243 bytes)
Author(s): Agha S, Escudero G, Keating J, Meekers D
Year: 2003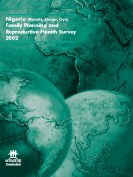 Abstract:
This 133-page report presents findings from the 2002 Nigeria Family Planning and Reproductive Health survey. This survey was conducted in selected Local Government Areas (LGAs) in the states of Bauchi, Enugu, and Oyo, where the VISION project operated in five LGAs in each of these three states. The VISION project, initiated in 2002, develops models of high impact, high performing family/planning/reproductive health (FP/RH) service delivery networks in selected LGAs so that these may be replicated in other parts of Nigeria. From a representative sample of men and women in the VISION project areas, the survey team collected information on respondents' exposure to mass media messages pertaining to family planning and AIDS, knowledge of family planning and sexually transmitted infections, sexual behavior, and use of family planning and AIDS prevention strategies. This report presents indicators used by the VISION project and USAID/Nigeria to monitor project performance. Data from the baseline survey were also used to measure changes in family planning and reproducitve health indicators resulting from the VISION project's interventions and in fine-tuning implementation of the VISION project.