Mortality in Mozambique: Results from a 2007–2008 Post-Census Mortality Survey

tr-11-83.pdf
— PDF document, 3,853 kB (3,946,139 bytes)
Author(s):
Year: 2012
Mozambique National Institute of Statistics, U.S. Census Bureau, MEASURE Evaluation, U.S. Centers for Disease Control and Prevention. 2012. Mortality in Mozambique: Results from a 2007–2008 Post-Census Mortality Survey. Chapel Hill, USA: MEASURE Evaluation.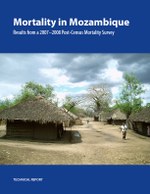 Abstract:
As it entered the second millennium, Mozambique lacked comprehensive estimates of mortality as well as its causes. Although several potential sources of such information existed, each had limitations and weaknesses. Given the lack of comprehensive information, Mozambique was unable to determine levels of mortality, its causes, or the regions and demographic characteristics exhibiting the highest mortality. In response to this critical data gap, the government of Mozambique decided to implement a post-census mortality survey—the Inquérito Sobre Causas de Mortalidade (INCAM)—in conjunction with the 2007 population census. The National Institute of Statistics, in collaboration with the Ministry of Health, implemented INCAM between 2007 and 2008. The INCAM sample was designed to be representative at the national, provincial, as well as urban and rural levels and to yield cause-of-death estimates consistent with the international classification system (ICD-10) developed by the World Health Organization (WHO).
This report presents key findings from INCAM regarding leading causes of death by basic demographic characteristics, including area of residence, age group, sex and other characteristics, such as the use of health services prior to death.