Assessment of Primary Health Care Facilities for Decentralization of HIV/AIDS Services in Nigeria

tr-13-93.pdf
— PDF document, 4,467 kB (4,574,930 bytes)
Author(s):
Year: 2013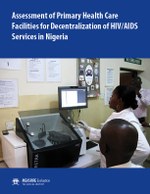 Abstract:
This report presents findings from an assessment of 268 primary health facilities selected from 17 States and the Federal Capital Territory (FCT) by the U. S. Agency for International Development (USAID), U.S. Centers for Disease Control and Prevention (CDC) and the U.S. Department of Defense (DoD) implementing HIV/AIDS programs as part of the scale-up plan for universal access to services for those infected or affected by HIV. Nigeria is one of the few countries in the developing world to decentralize systematically the delivery of basic health and education services to locally elected governments. Its health policy has also been guided by the Bamako Initiative to encourage and sustain community participation in primary health care services. This assessment data provide systematic evidence on how these decentralized institutions are ready to deliver HIV services, especially antiretroviral therapy (ART) and prevention of mother-to-child transmission (PMTCT).
Download the State Profiles
This document is not available in print from MEASURE Evaluation.