County Health Profile

fs-15-166-en.pdf
— PDF document, 233 kB (238,830 bytes)
Author(s): MEASURE Evaluation-PIMA
Year: 2015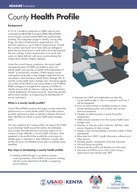 Abstract:
In 2014, a baseline assessment on M&E capacity was conducted by MEASURE Evaluation-PIMA across Kenyan counties where PIMA was implementing activities. The assessment sought to identify, among other things, the status of behavioural, organizational, and technical capacity in use of data for programming. Overall, the counties were found not to have data-use strategies in place that would enhance a weak culture of evidence-based decision making. Further, dissemination and use of data were not clearly defined, with some counties stating that dissemination doesn't happen regularly.
One of MEval-PIMA's products that helps counties assess their performance is a county health profile. This profile contains quarterly performance data on selected indicators that have been identified as critical in county health sector strategic plans.
The main objective of a county profile is to support the CHMT to prioritize key health issues that need to be addressed, and to make informed decisions and plans based on an analysis of data reflected in various health indicators. Data presented in the profile further enable the county team to identify gaps in indicators or data collected, consider data quality concerns, and develop action plans to address issues identified.
The expected key outputs for a county health profile are: timely reporting on all health indicators; quality data that is timely, accurate, consistent and complete; and structured and regular updates on core performance indicators that inform evidence-based decisions and plans for programming.