Handbook for Research on the Family Planning Market Volume 1: Using Data to Inform a Total Market Approach to Family Planning

tr-16-131a.pdf
— PDF document, 1,989 kB (2,037,200 bytes)
Author(s): Dominique Meekers, Sarah C. Haynes, Kathryn Kampa
Year: 2016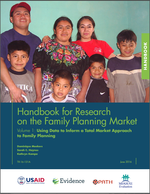 Abstract:
USAID envisions that by 2020 all the priority countries they support will have "the capacities to design, implement, and sustain high-performing family planning programs that include all three sectors for information, product and service delivery in a rational, efficient, and equitable way." This document will contribute to that goal by enhancing the in-country capacity to conduct market analyses to inform the design of TMA program.
The specific aims are to advise TMA planners about the data that should be collected to inform the TMA plan, to promote the standardization of indicators, to provide general guidance for basic data analyses.
Since this document focuses on data analyses to inform TMA planning, it is likely to be most useful to local researchers who will be responsible for collecting and analyzing the data that will be used to inform a subsequent TMA plan, and for communicating the findings of the analysis to various TMA stakeholders. The secondary audience consists of the various stakeholders, including program implementers, policy-makers, government officials, donors, and other researchers.
The second volume of the handbook includes several tools and resources that can help facilitate such an in-depth analysis of the family planning market. A planning guide for a total market approach to increase access to family planning is also available.
Access MEASURE Evaluation's related TMA resources: