Planning Guide for a Total Market Approach to Increase Access to Family Planning – Module 2: In-depth Analyses of the Family Planning Market

TR-16-131c-en.pdf
— PDF document, 2,567 kB (2,629,305 bytes)
Author(s): Meekers D, Haynes S, Kampa K
Year: 2016
Meekers, Dominique, Sarah C. Haynes, and Kathryn Kampa. 2016. "Planning Guide for a Total Market Approach to Increase Access to Family Planning. Module 2: In-depth Analyses of the Family Planning Market." Chapel Hill, NC: MEASURE Evaluation.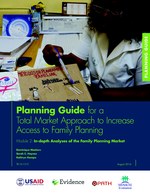 Abstract:
The objective of a total market approach (TMA) for family planning is to increase use of family planning products and services by means of a rational and efficiently segmented market in which key groups have access to a full range of family planning products and services (USAID, n.d.). TMA may also help reduce dependence on public funding. TMA requires a coordinated approach in which family planning suppliers and donors from the three sectors—the public, nongovernmental organization (NGO), and commercial sectors—work together and use their comparative advantage to grow the total market (Brady, Wedeen, Hutchings, & Parks, 2016; Pollard, 2007). Because coordination between the sectors is an important element of TMA, it is more likely to succeed when a specific entity takes responsibility for stewarding this coordination. Ideally, the government will take on this role (Brady, et al., 2016).
A landscaping exercise is recommended to assess the levels of interest of the government, donors, and key stakeholders from the other sectors to pursue TMA programming (Brady et al., 2016). If they decide to move forward, the government and its partners should make TMA decisions that are based on a thorough analysis of data about aspects of the family planning market, which may include consumer use and preferences, their willingness and ability to pay for products and services, and data about trends in the family planning market itself.
This requires an in-depth analysis of the family planning market. Such an analysis should build on the desk review of the literature and the stakeholder analysis conducted during the TMA landscaping exercise, by incorporating additional data or conducting new analyses of data.
This document reviews the issues involved in in-depth analyses of the family planning market that can be used to inform the development of a TMA.
Access MEASURE Evaluation's related TMA resources: