Botswana PEPFAR Gender Analysis

tr-16-135-en.pdf
— PDF document, 1757 kB (1799627 bytes)
Author(s): Ramatala I, Bloom S, Machao G
Year: 2016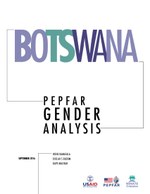 Abstract:
In 2014, the U.S. President's Emergency Plan for AIDS Relief (PEPFAR) required that all country teams conduct a gender analysis (GA) of their respective HIV epidemics and country responses. The aim of the GA was to identify gender-related factors in current programming that pose barriers to preventing new HIV infections, accessing testing services, starting antiretroviral therapy (ART), and adhering to treatment protocols. Therefore, undertaking gender analyses to identify gender-related factors and barriers in countries has been recognized as critical to controlling the epidemic. The GA process mandated by PEPFAR in each of its funded countries was to yield a set of pragmatic recommendations that could be employed to strengthen the PEPFAR response in countries. In this way, the gender analyses will help facilitate the achievement of the 2020 global goal of the 90-90-90: 90 percent of people living with HIV knowing their status, 90 percent of people diagnosed with HIV will receive sustained ART, and 90 percent of people being treated will have viral suppression.
It has long been recognized that gender inequality exacerbates a range of negative health outcomes in varying contexts around the world. More recently, gender inequalities, and gender-based violence (GBV) in particular, have been recognized as major drivers of the HIV epidemic worldwide. The gender staff of the Botswana USAID Mission requested that MEASURE Evaluation collaborate with them on the PEPFAR GA.
This document is not available in print from MEASURE Evaluation.