Home-Based Care (HBC) Needs Assessment among U.S. Government-Supported Areas in Tanzania

tr-16-137-en.pdf
— PDF document, 1,792 kB (1,835,015 bytes)
Author(s): Cannon M, Charyeva Z, Mahunga P, Lwezaura S
Year: 2016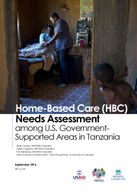 Abstract:
To address the HIV epidemic and meet the needs of people living with HIV and AIDS (PLHIV), Tanzania's Ministry of Health and Social Welfare—which, since October 2015, has been called the Ministry of Health, Community Development, Gender, Elderly and Children (MOHCDGEC)—adopted home-based care (HBC) as a component of the continuum of care promoted by the World Health Organization (WHO) and the United States President's Emergency Plan for AIDS Relief (PEPFAR).
This study seeks to obtain a better understanding of how best to deliver HBC services in the context of changing client needs, as effective and accessible treatment is transforming HIV from a terminal to a chronic condition. MEASURE Evaluation, funded by the United States Agency for International Development (USAID) and PEPFAR, conducted a survey of PLHIV to assess the condition of HBC clients living with HIV and determine needs for and satisfaction with HBC services among those clients. This study took place in five regions of Tanzania between May and August 2015. Study findings can be used to help ensure effective service delivery to better meet the changing HBC client population and to show decision makers how to improve HBC policy and operational guidelines. In particular, findings from this study could be integrated in MOHCDGEC training on HBC guidelines and implementing partner HBC operating guidelines.
This document is not available in print from MEASURE Evaluation.