mHealth for Health Information Systems in Low- and Middle-Income Countries – Challenges and Opportunities in Data Quality, Privacy, and Security

tr-16-140-en.pdf
— PDF document, 1,408 kB (1,442,529 bytes)
Author(s): Wambugu S, Villella C
Year: 2016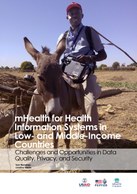 Abstract:
Governments, nongovernmental organizations (NGOs), and international development organizations are working to improve health outcomes through better national health systems. One of the six building blocks for strong national health systems is the use of health information systems (HIS), according to the World Health Organization. A well-functioning HIS provides timely and relevant information about health outcomes and performance of the components of the health system (WHO, 2007). Governments and organizations working in low- and middle-income countries (LMICs) are seeking ways to improve health-related information and communication technologies (ICTs) to improve data availability and accessibility (Sanner, Roland, & Braa, 2012). Moreover, tools and systems that can help healthcare workers become more efficient and effective are especially crucial in LMICs facing health personnel shortages (Agarwal, Perry, Long, & Labrique, 2015).
For mHealth to assume a fully integrated role in healthcare, it must be provided in a way that gives patients and providers confidence that patient privacy will be protected and the confidentiality and security of patient information will be assured. Data need to be credible and consistent, and collected and stored securely in a trusted electronic health record with managed access for patients, caregivers, and healthcare professionals (Kumar & Wambugu, 2015).
MEASURE Evaluation undertook this assessment to study how mobile phone user behavior among health workers in LMICs may affect data quality, including data privacy, security, and confidentiality. Through this assessment, the research team also learned that technical issues associated with mobile technology can affect data quality and security. We documented emerging best practices and challenges, studied reports in available peer-reviewed journals and gray literature, and gathered insights through interviews and consultations in two countries: Kenya and Tanzania.