Integrating Nutrition in Value Chains in Malawi: Using Most Significant Change Stories to Understand Community Experiences

TR-17-187_en.pdf
— PDF document, 638 kB (653,664 bytes)
Author(s): Valerie Flax, Agatha Bula, Ryan Seguin, and Gustavo Angeles
Year: 2017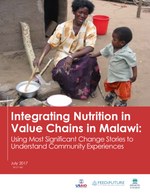 Abstract:
Feed the Future is a United States Government initiative that aims to reduce hunger and poverty by accelerating growth in the agricultural sector, improving food security, addressing the root causes of undernutrition, and reducing gender inequality. Integrating Nutrition in Value Chains was the flagship Feed the Future Malawi activity from 2012 to 2016. In agriculture, a value chain program may increase value by improving input supply, cultivation, transportation, storage, or marketing of farm products. Integrating Nutrition in Value Chains targeted groundnut and soybean value chains through farmers' clubs and worked through community care groups—groups of women who meet to discuss health and provide peer support—to provide nutrition education to pregnant women and women with children younger than five years of age. 
The University of North Carolina at Chapel Hill and the Centre for Public Health Research and Development trained 26 volunteer nutrition promoters in Mchinji and Lilongwe Districts to use the most significant change technique to obtain information from participants about their experiences with the program from June 2015–June 2016. Two hundred seventy-seven stories were analyzed using qualitative content analysis methods.
This analysis, supported by the USAID-funded MEASURE Evaluation project found that the care group model for nutrition and health promotion was successful and should be continued or expanded. This report makes a series of recommendations for improving the Feed the Future program in Malawi, based on most significant change stories and input from nutrition promoters.