Botswana's Gender-Based Violence Referral System Project: Operations Research Initial Report

TR-17-189_en.pdf
— PDF document, 1,939 kB (1,985,922 bytes)
Author(s): Botswana Ministry of Nationality, Immigration and Gender Affairs
Year: 2017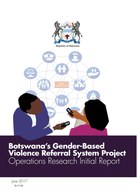 Abstract:
Botswana has one of the highest HIV prevalence rates in the world, and gender-based violence (GBV) has been identified as a significant driver of HIV.
In 2013, the Gender Affairs Department of Botswana's Ministry of Nationality, Immigration and Gender Affairs engaged MEASURE Evaluation (funded by the United States Agency for International Development and the United States President's Emergency Plan for AIDS Relief) to collaboratively develop and pilot the Gender-Based Violence Referral System Project (GBVRSP). The goals were to increase community awareness of GBV, improve care and support to survivors, and launch a new mobile-based referral system in four pilot sites.
MEASURE Evaluation conducted operations research to improve understanding of GBVRSP's process and results.
This report presents the findings of this research. It also offers recommendations related to community perceptions of GBV, provider perceptions and processing of GBV cases, and the GBV referral system.