Monitoring the Outcomes of Orphans and Vulnerable Children Programs in Namibia: Project Hope Namibia 2016 Survey Findings

tr-17-192.pdf
— PDF document, 1,419 kB (1,453,950 bytes)
Author(s): Robert Mswia, Lizl Stoman
Year: 2017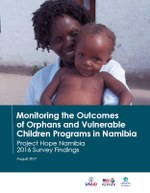 Abstract:
In 2014, the United States President's Emergency Plan for AIDS Relief (PEPFAR) introduced a set of outcome indicators for programs serving orphans and vulnerable children (OVC), referred to as the Monitoring, Evaluation, and Reporting (MER) Essential Survey Indicators. PEPFAR requires these indicators to be collected every two years by a research organization external to the OVC program. These outcome indicators reflect internationally accepted developmental milestones; together, they measure the holistic well-being of children over time. A standard survey method and tools have been developed to collect these data in countries where PEPFAR is supporting OVC programs. PEPFAR/Namibia asked MEASURE Evaluation—funded by the United States Agency for International Development (USAID) and PEPFAR—to conduct a survey to collect these indicators for Project HOPE Namibia (PHN).
MEASURE Evaluation, in partnership with Survey Warehouse, a market research firm in Namibia, conducted a household survey using a two-stage cluster sampling approach from among currently enrolled beneficiaries PHN. This report shares the survey findings.
This document is not available in print from MEASURE Evaluation.