Monitoring Outcomes of PEPFAR Orphans and Vulnerable Children Programs in Nigeria: Institute of Human Virology 2016 Survey Findings

tr-17-201.pdf
— PDF document, 2,682 kB (2,746,614 bytes)
Author(s): Walter Obiero, Elizabeth Omoluabi, Akanni Akinyemi, Adesegun Fatusi
Year: 2017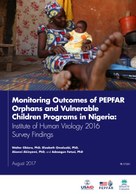 Abstract:
Nigeria has an estimated 17.5 million orphans and vulnerable children (OVC), and AIDS, maternal mortality, ethnic violence, and poverty have an impact on their lives. The United States President's Emergency Plan for AIDS Relief (PEPFAR) and the Government of Nigeria have made substantial investments designed to improve the well-being of OVC in Nigeria (PEPFAR, 2012). To measure the impact of this support, PEPFAR introduced in 2014 a set of outcome indicators for OVC programs, referred to as monitoring, evaluation, and reporting (MER) essential survey indicators. PEPFAR required that the indicators be collected every two years by a research organization external to the OVC program. These outcome indicators reflect internationally-accepted developmental milestones and collectively measure holistic well-being of children over time. Our survey is designed to use standardized methods developed for application across multiple countries to provide measurable indicators on PEPFAR-supported projects that aim to improve the well-being of OVC in Nigeria.
The objective of this survey was to collect the first round of the nine essential survey indicators for registered active OVC beneficiaries of the Institute of Human Virology, Nigeria (IHVN), a nongovernmental organization focusing on research, health services, and capacity building. This survey provided the first estimates of the essential outcome indicators and will be repeated at two-year intervals to monitor changes in the well-being of OVC and their caregivers over time. This report shares the findings of the IHVN survey.
This document is not available in print from MEASURE Evaluation.