Easing the Data Collection Burden on Healthcare Providers by Strengthening Health Information Systems

tr-17-211.pdf
— PDF document, 1,626 kB (1,665,505 bytes)
Author(s): MEASURE Evaluation
Year: 2017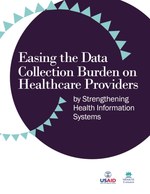 Abstract:
Health information systems (HIS) represent a significant investment for groups that require evidence for accountability and informed decision making. Despite a compelling need for robust evidence of HIS function, these systems have not traditionally been a subject for rigorous study and evaluation. That lack limits learning, sharing, and cultivating best practices that can be shared more widely.
MEASURE Evaluation, funded by the United States Agency for International Development, developed an HIS Learning Agenda, to justify and build an evidence base for which investments in HIS are effective and useful and explore what works to strengthen HIS. For the Learning Agenda, we seek to answer questions such as these: What are the factors and stages of progress in HIS performance and how are they measured? And what are the characteristics of a strong HIS? The project is also implementing activities to build the evidence base on HIS strengthening. We hope our efforts will contribute to evidence-informed global work to strengthen HIS and health outcomes.
This paper—one of a series developed by MEASURE Evaluation—explores how to improve HIS to address the burden of data collection that falls to healthcare providers. The aim is to discover ways to help providers collect good-quality data without compromising the care they give to their clients. This paper reviews what we can discern thus far, through a review of literature and our own experience, and it provides a series of recommendations for data collection and HIS.