Data Use in the Democratic Republic of the Congo's Malaria Program: Results from Seven Provinces

tr-17-224.pdf
— PDF document, 1,948 kB (1,995,320 bytes)
Author(s): MEASURE Evaluation
Year: 2017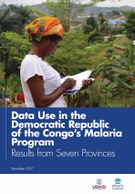 Abstract:
Evidence-informed decision making is essential for the success of health systems, programs, and services. Global commitments to improving health systems and outcomes have led to improved monitoring and evaluation (M&E) and health information systems, thus providing an opportunity to use data for decision making and not simply for reporting.
Overall, the relationships among improved information, demand for data, and continued data use constitute a cycle that leads to improved health programs and policies. Improving data demand and use (DDU) is necessary to improve the effectiveness and sustainability of a health system.
MEASURE Evaluation, which is funded by the United States Agency for International Development and the United States President's Malaria Initiative, undertook an assessment to understand the data use context for those working in the Democratic Republic of the Congo (DRC) in the National Malaria Control Program (NMCP) at the provincial and health zone levels in seven provinces (Bukavu, Haut Lomami, Kasai Central, Kasai Oriental, Lomami, Sankuru, and Tanganyika), as well as implementing partners working with the NMCP at the provincial level. The purpose of this assessment was to identify how data are currently being used for decision making and how future interventions can be designed to promote the demand for and use of data in decision making.