Measurements to Capture the Quality of HIV Services for Men Who Have Sex with Men and for Transgender People

tr-18-239.pdf
— PDF document, 946 kB (969,643 bytes)
Author(s): Leslie Craig, Katherine Andrinopoulos
Year: 2018
Craig, L. & Andrinopoulos, K. (2018). Measures to capture the quality of HIV services for men who have sex with men and for transgender people. Chapel Hill, NC, USA: MEASURE Evaluation, University of North Carolina.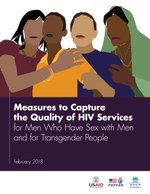 Abstract:
The goal of achieving quality in service provision is common in HIV programming, but progress in the field has stalled, because of a lack of clarity about how to operationalize quality and measure end roads to success. A previous report used findings from a systematic
literature review to develop a definition of quality and an analytical framework for the quality of HIV services geared to men who have sex with men (MSM) and for transgender people.
This new report presents existing measures of quality proposed in our previous framework, highlights the current gaps, and suggests future directions. Produced by MEASURE Evaluation, a project funded by the United States Agency for International Development (USAID) and the United States President's Emergency Plan for AIDS Relief (PEPFAR)—the report is directed to policymakers, program managers, and researchers who collect and use data about quality to design, implement, and evaluate programs along the HIV care continuum for MSM and transgender people.